Window Treatments
Panhandle Carpet One Floor & Home is not only your local source for flooring but also home design services. As part of our home design services, we carry a wide selection of window treatments. While window treatments may not seem like a huge part of your overall home design, we are here to tell you that they are. Window treatments can add style and class to your space while protecting your flooring and giving you the privacy you need. With a wide range of colors, patterns, and types available, we can help you find the window treatment that works best for your home!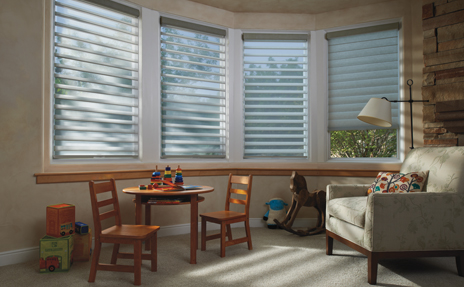 Benefits of Window Treatments
Window treatments offer many benefits other than the traditional privacy and light control. Privacy and light control are two benefits that are essential for many homeowners, but other advantages like added style, protection for your floor and furniture, and app controls are also at the top of the list for many.
Window treatments can be seen as a piece of décor in your space. Whether you have a modern or traditional style, the fabric, color, and type of window treatments you choose can complement your space. If you want your treatments to be more neutral and allow other pieces of décor to be accentuated, you can choose a gray or beige fabric treatment. On the other hand, if you prefer bold, bright colors, you can choose a bright fabric with a pattern. Other options include wood treatments that are a combination of timeless style and adaptable looks.
Many people don't know that window treatments can protect your furniture and flooring from the sun. Why would you need to do that? The sun can actually cause serious fading to both your furniture and flooring, so adding a window treatment that keeps the sun out of your home during the day protects your things from fading.
Technology continues to change every day, and there is no exception when it comes to window treatments. Today, there are app controlled window treatments available, allowing you to control your space from wherever you're at. If you don't have a smartphone, there are other options like remote controls. This is beneficial particularly for those high windows that you wouldn't be able to reach otherwise. Also, if you go on vacation and forget to make your home more private, you don't have to worry with motorized treatments.
Types of Window Treatments
We carry both hard and soft window treatments, including wood blinds, wood-look blinds, honeycomb shades, cellular shades, and roman shades. Hard window treatments are incredibly easy to keep clean while soft window treatments are ideal for full darkness.